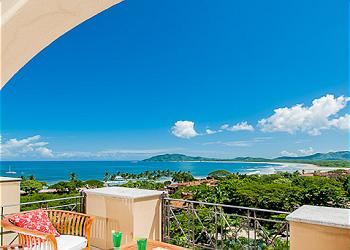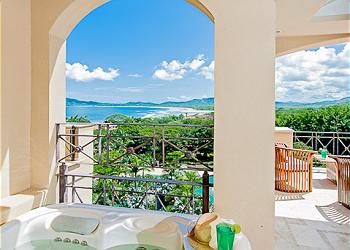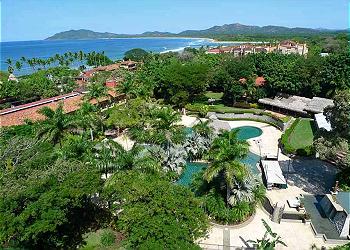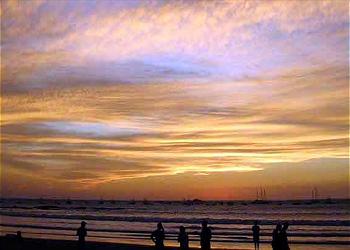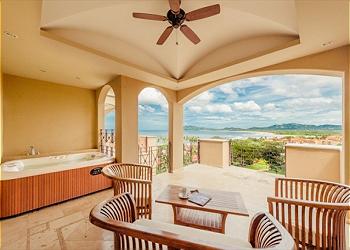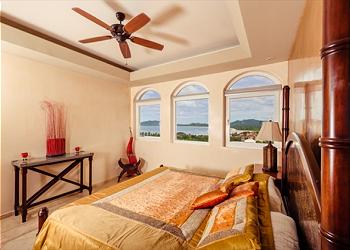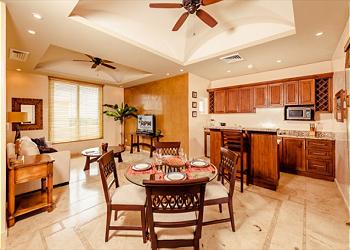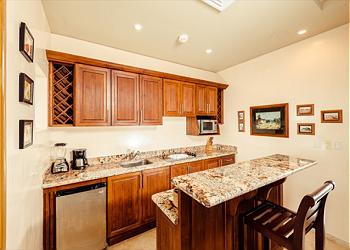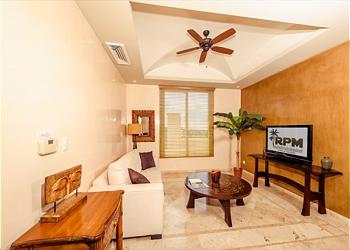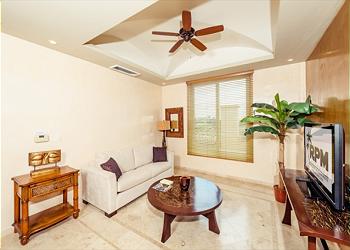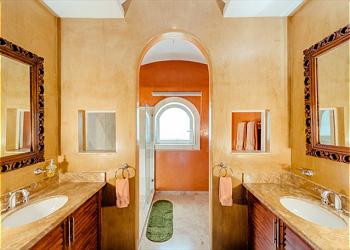 MAT603T - This luxury studio apt. is located on the sixth floor of the elegant Matapalo complex. The views from the terrace are breathtaking. With a large living space, full kitchen, and private terrace with outdoor Jacuzzi, this is the perfect romantic hideaway. This unit can be rented as a 2, or 3BR unit as well. Completely closed off from the lower floor, the studio can be opened to a two bedroom condo below. The unit has the light floating feeling of being in a dream. Cream-colored tile floors with round-pebble detail span the unit, spilling out of glass doors onto a patio that feels like it leads into thin air. The height is dizzying and the large windows and glass doors give the feeling of having stepped into the sky instead of a penthouse suite. From the ample balcony where the Jacuzzi bubbles, the earth has faded away and you are left only with the sea stretching into infinity, the sound of waves, the brush of the wind. In addition to a delightful king sized bed, there is an enormous walk-in closet and a spacious bathroom equipped for two. A generous living area and a small kitchen with granite counter tops will meet your simple cooking needs. The studio has a microwave, coffee maker, small fridge and stove top. Below, an enormous swimming pool of organic design is the center of the garden area and boasts a swim up bar which you won't want to miss. Across the street an oceanfront restaurant is preparing tropical delicacies to add sweetness and spice to the memories you will carry with you for a lifetime.



Air Conditioning




Security




Coffee Maker




Parking
MORE AMENITIES
Ceiling Fans
High Speed Internet
Jacuzzi Tub
Linens
Night Guard
Cable TV
Cook top stove
Kitchenette
Microwave
Refrigerator
Balcony
Beach
Hot Tub
Shared Pool
Close to Town
Near Beach
Ocean View
Ratings based on 7 Verified Reviews
4.8
Walter C.
Recommended
for Everyone
Tamarindo El Diria Matapalo Condos
Posted Feb 20, 2021
Awesome stay in Tamarido during COVID .
RPM staff , particularly Lola, so incredibly helpful, and Josef in helping us navigate the COVID requirements.
Overall satisfaction
Services from rental manager
Cleanliness
Location
Property condition
Response:Walter, we are so very happy that you enjoyed your stay and the attention of our staff, we were very happy to host you and would like to extend a discount for any future visitis!
5
Walter C.
Recommended
for Everyone
Always love being in Tamarindo and working with the team at RPM a
Posted Mar 02, 2018
Condo we had in Tamarindo was great.
Overall satisfaction
Services from rental manager
Cleanliness
Location
Property condition
Response:Thank you so much for the great 5 star review and compliments about our staff. They are truly the best in town!
5
shelleyruthwerner
United States
Recommended
for Everyone
An Amazing Place
Posted Mar 15, 2015
This condo was beyond beautiful. The view from the balcony was so breathtaking that we spend most of our time out there. I didn't think we'd use the Jacuzzi because it was so hot during the day, but at night it cooled down, and the breezes up there even cooled the balcony during the day. The place was clean, the service excellent. We had a problem with the air conditioner rattling, and all we had to do was tell RPM Management and the next day it was fixed. Only negatives were: the suite was number 603, but nobody told us the entrance was on the 7th floor. We figured it out, but not before dragging our luggage around looking for it on the 6th floor. Also, the downstairs neighbours were a bit noisy, and I wonder if they are advised that we are present and they should moderate their sound because all that separates us is a wooden door. THis was the smallest issue, and only came into play in the early morning. The other negative was that it was never explained to us what our relationship to the Diria Hotel was. We thought we had hotel pool and beach privileges as we were given a wrist band, but not made aware of what it did not include... somewhat embarrassing to be told to leave the hotel pool near the beach. We didn't know that was off limits. Aside from these small things, everything was wonderful. Would definitely book again.
Overall satisfaction
Services from rental manager
Cleanliness
Location
Property condition
Response:Thanks for the great review and glad you had a great time. Thank you for the feedback on some of the areas we can be more clear on. We will make these changes so that it is more clear for future guests.
4.2
thelanzarottas
Canada
Recommended
for Everyone
Just a wonderful experience
Posted Feb 10, 2014
Beautiful condo and beautiful grounds. Lots of great restaurants for dining!
Overall satisfaction
Services from rental manager
Cleanliness
Location
Property condition
4.4
rruxlow
United States
Recommended
for Everyone
A great condo in a great location
Posted Mar 24, 2013
This is a great condo for two people. We stayed for two weeks in March and took advantage of all it had to offer. The view is amazing and we enjoyed it from the hot tub on the balcony nearly every morning. The location is good if you want to be in the middle of Tamarindo, if you want something quiet and out of the way then this isn't it. Having access to the Diria hotel and amenities was a very nice feature. I stayed at the Diria Hotel on my previous visit and liked this condo much better. The entire Diria hotel and condo complex has good security, and while the man street of Tamarindo could feel a little sketchy late at night we never felt any of that inside the complex.
The condo has enough room for two people but I imagine it would feel cramped with anything more. It isn't really a one bedroom in the traditional way. It has an open floor plan and the "bedroom" is open to the rest of the condo, no door, so if you have more than two people you are all going to be sleeping in one big open space. I had internet access problems to start but the staff at RPM was very helpful and got it figured out in about 24 hours.
The place was very clean except for the hot tub. I spent an hour cleaning up the hot tub before I felt that it was ready to go. The water seemed ok and they left some chlorine but the hot tub shell had a lot of scale on it. The condo had a basic supply of kitchen equipment and it was good for preparing small meals.
Overall it was a great place that more than met our expectations.

Overall satisfaction
Services from rental manager
Cleanliness
Location
Property condition
4.2
Darlene T.
Canada
Recommended
for Everyone
Beautiful location and facility
Posted Mar 10, 2012
Overall satisfaction
Services from rental manager
Cleanliness
Location
Property condition
4.8
mafearer
United States
Recommended
for Everyone
Oh the view!
Posted Feb 17, 2012
Stayed in the one of the "penthouse" floors of Matapolo Condos-Diria Resort. What a fantastic view and location is middle of Tamarindo--close to everything. Only small disadvantage to staying in the penthouses is kitchen not condusive to long stay..refrig, oven, housewares (also no washer/dryer). RPM supplied extras,took care of us (laundry) and made our stay great!
Will definitely stay again!
Overall satisfaction
Services from rental manager
Cleanliness
Location
Property condition