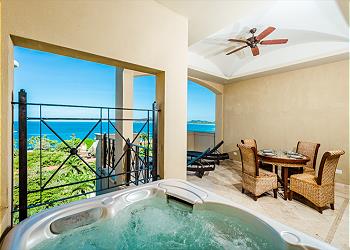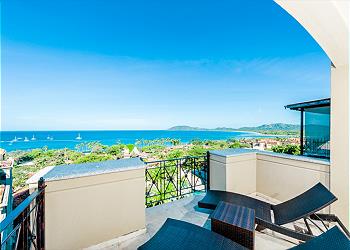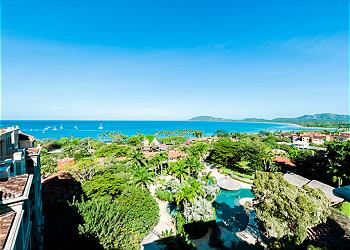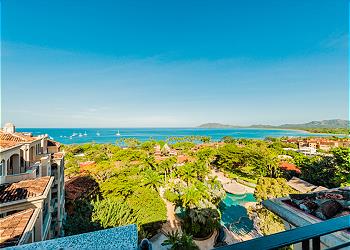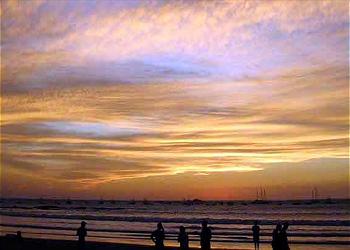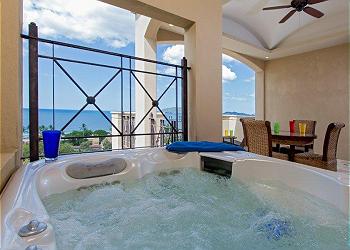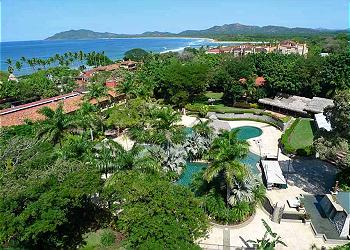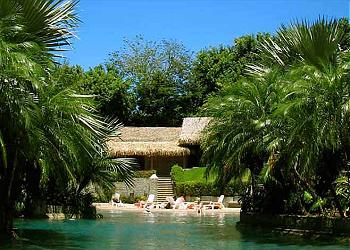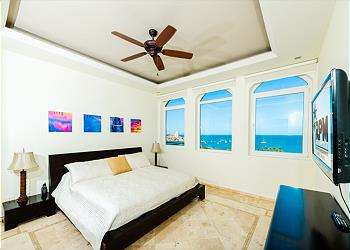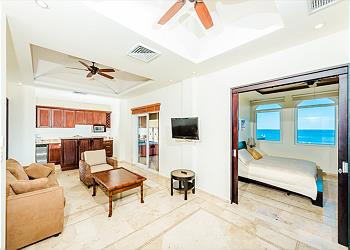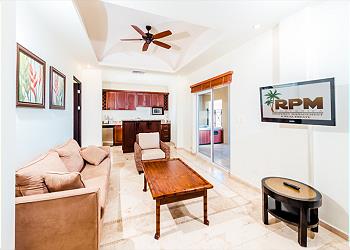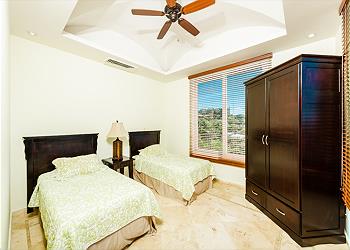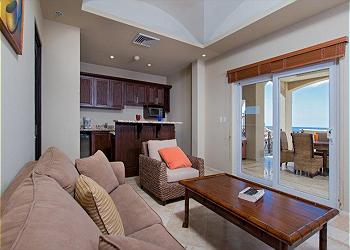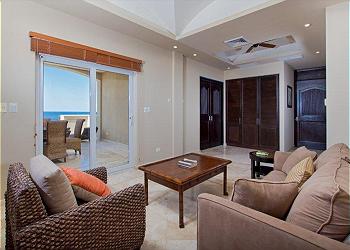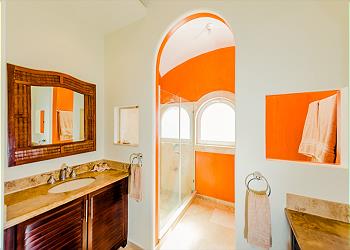 MAT701T - This luxury 2br apt. is located on the top floor of the elegant Matapalo complex. The views from the terrace are breathtaking. With a large living space, kitchenette, and private terrace with outdoor Jacuzzi, this is the perfect romantic hideaway. This unit can be rented as a 2, or 4BR unit as well. Completely closed off from the lower floor, the upstairs can be opened to a two bedroom condo below. The unit has the light floating feeling of being in a dream. Cream-colored tile floors with round-pebble detail span the unit, spilling out of glass doors onto a patio that feels like it leads into thin air. The height is dizzying and the large windows and glass doors give the feeling of having stepped into the sky instead of a penthouse suite. From the ample balcony where the Jacuzzi bubbles, the earth has faded away and you are left only with the sea stretching into infinity, the sound of waves, the brush of the wind. In addition to a delightful king sized bed, there is an enormous walk-in closet and a spacious bathroom equipped for two. A generous living area and a small kitchen with granite counter tops will meet your simple cooking needs. The studio has a microwave, coffee maker, small fridge and stove top. Below, an enormous swimming pool of organic design is the center of the garden area and boasts a swim up bar which you won't want to miss. Across the street an oceanfront restaurant is preparing tropical delicacies to add sweetness and spice to the memories you will carry with you for a lifetime.



Air Conditioning




Coffee Maker




Parking
MORE AMENITIES
Ceiling Fans
Central Air
High Speed Internet
Jacuzzi Tub
Linens
Night Guard
wi-fi
Nearby ATM
Nearby Bank
Nearby FedEx
Nearby Internet Cafe
Nearby Post Office
Cable TV
Blender
Cook top stove
Cookware
Kitchenette
Refrigerator
Balcony
Beach
Outdoor Shower
Shared Pool
Close to Town
Near Beach
Ocean View
Area FitnessCenter
Golf Course
Movie Theatres
Nearby Grocery
Nearby Medical Services
Nearby Restaurants
Nearby Tennis Courts
Local Fiestas
Ratings based on 4 Verified Reviews
4.6
Christopher E.
Recommended
for Everyone
Nice Place, centrally located
Posted Jun 08, 2019
We've rented multiple units in Matapalo. This one had a great view. No maintenance issues. Clean and well appointed. The knives, pots and pans are function (although could use replacement).
Bed was comfortable. Could use a shade or screen on the windows in the den.
Overall satisfaction
Services from rental manager
Cleanliness
Location
Property condition
Response:Thank you so much for the great review and details to help make the experience great for the next guests. We will work with the owners to update the kitchen items this year. Looking forward to having you stay in this great penthouse again!
4.6
madelynmorgan666
Canada
Recommended
for Everyone
our stay
Posted Feb 17, 2014
wonderful stay
Overall satisfaction
Services from rental manager
Cleanliness
Location
Property condition
Response:So glad you had a good time. We hope to see you again in the future.
5
Marisol Y.
United States
Recommended
for Everyone
The best place to stay in Tamarindo
Posted Feb 22, 2013
The condo is the best place to stay in town. It have the best view of the beach and the sunset. Easy access to the ocean and very convenient to shopping centers and restaurants. The pools are wonderful. The condo is very modern and beautiful and feels very welcoming. I would stay there again and recommends it to everyone instead of the hotel.
Overall satisfaction
Services from rental manager
Cleanliness
Location
Property condition
5
Jaime A.
United States
Recommended
for Everyone
RPM Gives Great Service
Posted Feb 08, 2012
Lola and Kevin Herman at RPM Management Company went out of their way to make sure we had access to the kitchen because of our special dietary needs. We really appreciate their kindness and service.
Overall satisfaction
Services from rental manager
Cleanliness
Location
Property condition