VCM2 -The Villas at Cerca del Mar offer Playa Langosta's ultimate vacation rental experience. These two and three bedroom villas have everything you would ever expect in a true luxury vacation home The Morrocan-inspired architecture and attention to detail throughout put these villas a class beyond any other properties in the Tamarindo area. Details such as locally hand-crafted floor and wall tiles, tropical hardwood doors and cabinetry, cast stone fountains, and vaulted hardwood beamed ceilings enhance your Costa Rican getaway. In addition, lush gardens, private pools, fully equipped gourmet kitchens, spacious bedrooms and bathrooms and ample common spaces provide guests all they need for a relaxing vacation. Come discover why the Villas Cerca del Mar is as close to paradise as you can get. Villa Encantada: The charms of Costa Rica, the captivating natural beauty, the beguiling black sand beaches, and the bewitching sunsets over the Pacific Ocean are all yours to savor and enjoy at Villas Cerca del Mar #2. However you define it, a vacation at Villa Encantada will create lasting memories you, your family and friends won't soon forget. From the moment you step through the front gate and take in the crystal clear waters of the pool, surrounded by a lush private outdoor sanctuary and then gaze up at the stunning Moorish style Villa you'll know you've arrived at some place extraordinary. Chaise lounges under the shaded arbor invite you to relax and unwind as the ocean breezes drift through the trees. That's not to say a healthy dose of pool games is out of the question, however. Enter the Villa and explore your home away from home, complete with a fully equipped gourmet kitchen, enclosed outdoor grill area and three sumptuous bedrooms all with en suite bathrooms. A newly installed fountain patio is the perfect spot for yoga, quiet meditation or just reading. Throughout this luxurious Villa you'll find extensive handcrafted woodwork using the finest of Costa Rica's hardwoods and landscaping throughout the property highlighting the country's lush flora and fauna. Guests will find all the modern amenities they enjoy at home: broadband WiFi, Sonus Bluetooth speakers, and a large flat screen television. EXCLUSIVE TO RENTERS OF VILLA ENCANTADA: Guests renting Villa Encantada are entitled to complimentary membership at the nearby Langosta Beach Club offering an infinity pool, full service restaurant and bar, fitness center, yoga classes, surfing lessons, private concierge and more. ONLY RENTERS OF VILLA ENCANTADA ARE ELIGIBLE FOR THIS MEMBERSHIP.



Air Conditioning




Coffee Maker




Parking




Private Pool
MORE AMENTIES
Ceiling Fans
High Speed Internet
Linens
Phone
Washer & Dryer
Nearby ATM
Nearby Bank
Nearby FedEx
Nearby Internet Cafe
Nearby Post Office
Cable TV
CD Player
DVD Player
Stereo System
Cookware
Dishwasher
Full Kitchen
Ice Maker
Microwave
Oven
Refrigerator
Toaster
Balcony
BBQ Grill
Outdoor Shower
Patio
Close to Town
Near Beach
Across the Street from ocean
Area FitnessCenter
Golf Course
Nearby Grocery
Nearby Medical Services
Nearby Restaurants
Nearby Tennis Courts
Local Fiestas
Ratings based on 6 Verified Reviews
5
dan d.
United States
Recommended
for Everyone
Best Rental in Langosta!
Posted May 27, 2015
This is the second time that I have stayed here & I absolutely love it!
The view of the pool from the upstairs balcony at night is absolutely breath taking & can not adequately be described by my words...
If you rent this unit you will not be disappointed!
Overall satisfaction
Services from rental manager
Cleanliness
Location
Property condition
5
Dan
United States
Recommended
for Everyone
Looking forward to hopefully staying here again!
Posted Apr 23, 2015
We stayed here 2 yrs ago for 17 days & I had an absolutely wonderful time! I am going back to Costa Rica in 2 weeks & even though we're starting out in San Jose & then going to Jaco Beach, we've decided to check availability for Encantada#2 in hopes that it is available on short notice, & if so we're going to drive the 4.5 hours from Jaco Beach to stay here again for 4-5 days because we loved it here so much the last time that we felt like our trip just wouldn't be complete without staying here again... So cross your fingers & wish me luck!! :-)
Overall satisfaction
Services from rental manager
Cleanliness
Location
Property condition
Response:So glad you love the unit. It is truly amazing and we hope to see you many times into the future!
5
Peter Mixa
United States
Recommended
for Everyone
Great Time
Posted Oct 29, 2014
I just wanted to say that we had a great time. The villa is well appointed and had plenty of room for 6 adults, tastefully decorated and the kitchen was well stocked with utensils, cookware and china. Even though it was considered the rainy season, it never rained all day. The pool in the morning, beach club in the afternoon and then the beach across the street for sunset. The membership to Langosta Beach Club was awesome and their staff and food was amazing, we spent a good amount of time there. One of the recommendations in the book was breakfast at a B&B just down the street Sueno del Mar, it's a must, we liked it so much the first time we went back on our last day. And the host Susan is a wealth of knowledge on the area. The management company RPM was delight to deal with, from check-in, to even setting up a day trip to the zip-line. All in all one of the best vacations I have taken. Russ and Duncan thanks a bunch, you have a beautiful place in Playa Langosta. Pura Vida, Peter
Overall satisfaction
Services from rental manager
Cleanliness
Location
Property condition
5
Lew G.
United States
Recommended
for Everyone
Nicer place of thetwo we stayed at...
Posted Dec 10, 2012
Very well equipped and labelled throughout house. Secure location and the security people were very helpful as well. Since we messed of dates of arrival they were able to get us another unit for one night , although they are pretty similar layout this one was even better versus #6.
Only issue was map said to "take left at the Century 21 sign", although there is no sign so that was confusing late at night.
Would stay there again.

Overall satisfaction
Services from rental manager
Cleanliness
Location
Property condition
Response:Thanks for the feedback about the unit and the map. We have corrected the map and hope to see you again in the future.
4.6
David and Anne L.
United States
Recommended
for Everyone
Beautiful house near the beach
Posted Jul 23, 2012
We had a great time. This is a wonderful house with a fantastic courtyard and pool. The house is actually better than the description - how often does that happen?
Very private and relaxing. Boys walked 5 minutes to great surf at Langosta every morning. short drive to Tamarindo.
Highly recommend this house.
Overall satisfaction
Services from rental manager
Cleanliness
Location
Property condition
4.6
Valerie D.
United States
Recommended
for Everyone
Beautiful Encantada
Posted Nov 30, 2009
the only problem i had was that the living room area (TV Room) was so hot. There needs to be air conditioning in this room. this is where we hung out after a days worth of activities. We wanted to relax and be cool. It was uncomfortable in this room.
Overall satisfaction
Services from rental manager
Cleanliness
Location
Property condition
You May Also Like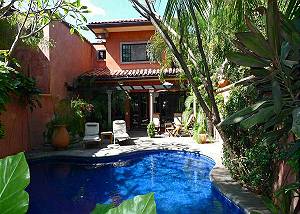 Villas Cerca del Mar # 1
From $1695 week
avg/week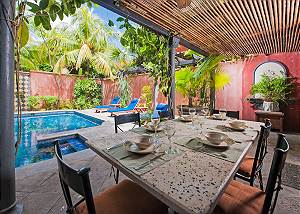 Villas Cerca del Mar # 10
From $1695 week
avg/week
Villas Cerca del Mar # 3 - Jazmin
From $1695 week
avg/week
Villas Cerca del Mar # 5
From $1460 week
avg/week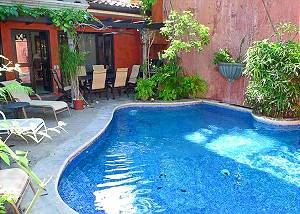 Villas Cerca del Mar # 6 - Casa Tamarindo
From $1695 week
avg/week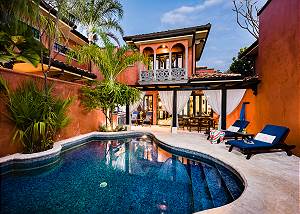 Villas Cerca del Mar # 8
From $1695 week
avg/week
Villas Cerca del Mar # 9
From $1460 week
avg/week