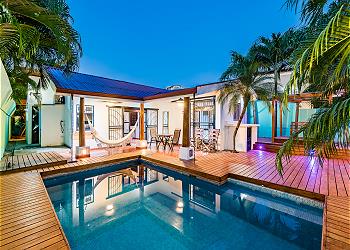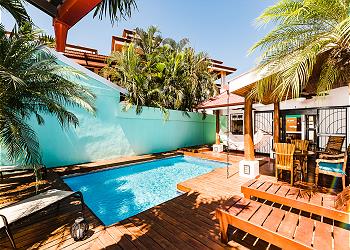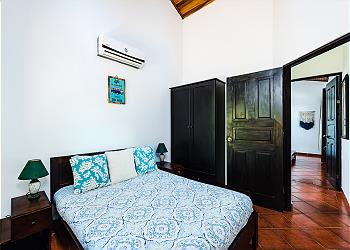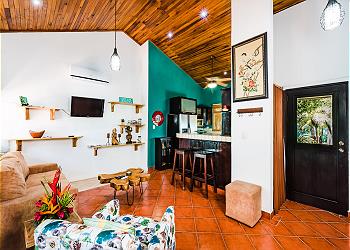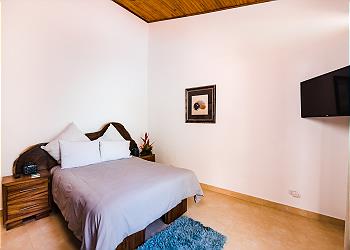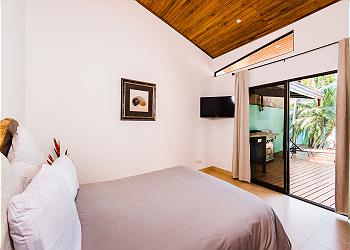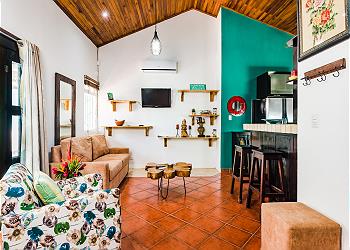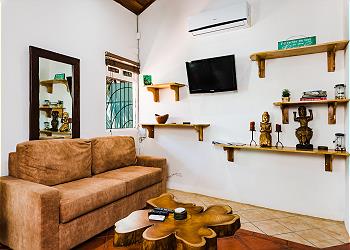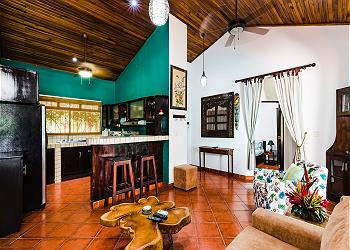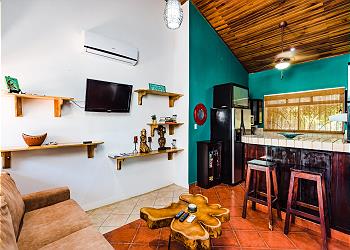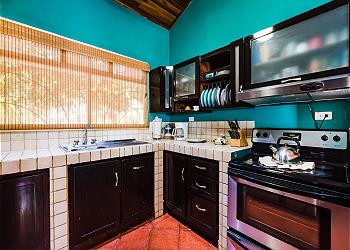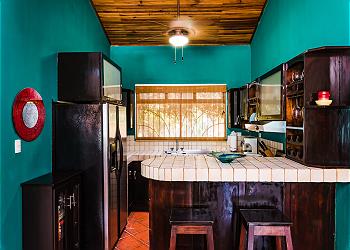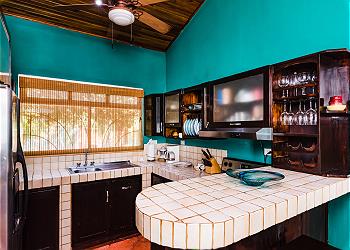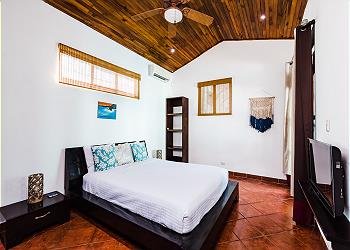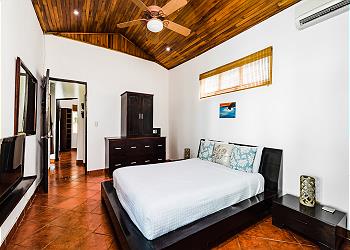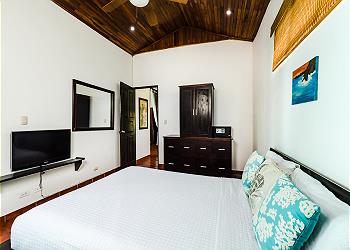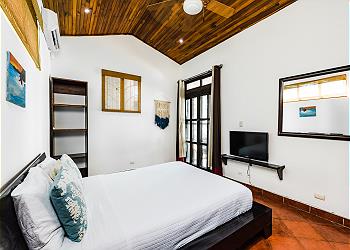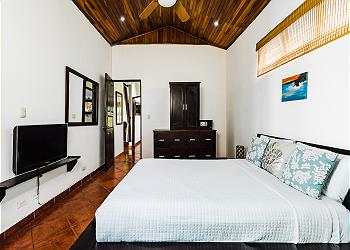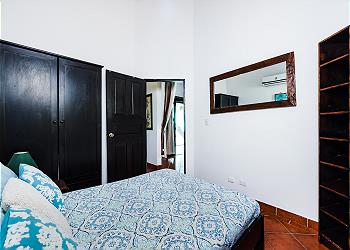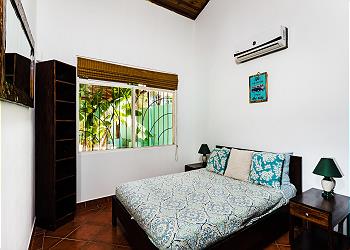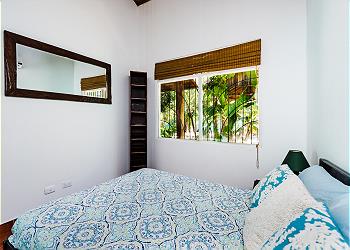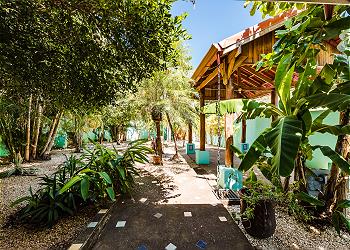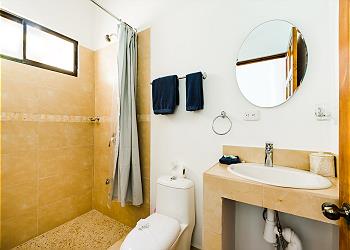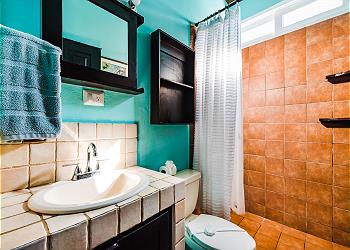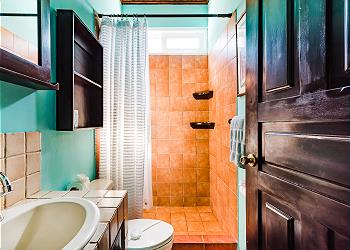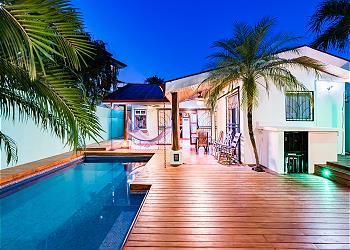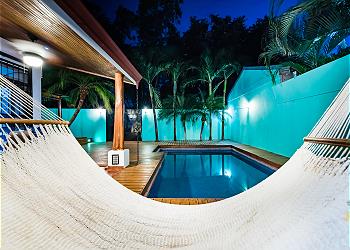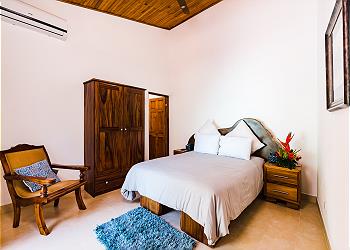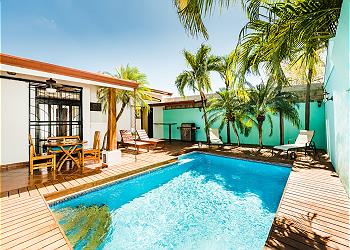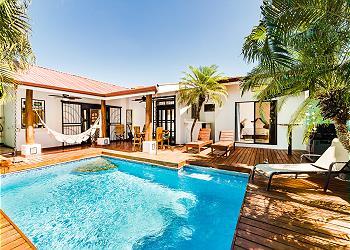 Spend your vacation in Casa Tropical. This beautiful 3 bedroom, 2 bath house with private pool sleeps 8 comfortably. Lush tropical gardens with fruit bearing trees welcome you at the entrance of the gated lot. A spacious driveway can fit up to 3 cars securely. The private pool is surrounded by a new wooden deck and pergola, perfect to sunbathe and refresh yourself with friends and family, or simply to lay back and rest on the poolside hammock.With areas to enjoy lunch/dinner outside under ceiling fans, you can enjoy your own private oasis. The new Master bedroom is separate from the house and right next to the pool, it has an en-suite bathroom and a king bed. Inside the house, a good sized living area is connected to the kitchen so family and friends can enjoy one another while cooking or preparing a cocktail before walking 5 minutes to the beach for sunset. The master bedroom has a queen bed and looks out to backyard pool. The second bedroom has a full sized bed and looks out to the front yard gardens. In between the two is the bathroom with shower. The house located a block away from the beach at Playa Langosta and less than a 5 minute drive from downtown Tamarindo. A local convenience store is close by as well. It is perfecly located to make you're vacation an unforgettable experience.



Air Conditioning




Safe




Coffee Maker




Parking




Private Pool
MORE AMENITIES
A/C in bedroom
High Speed Internet
Linens
Phone
Washer & Dryer
wi-fi
Maid Service
Concierge Service
Free Wi-fi
Fiber optic internet
Nearby ATM
Nearby Bank
Nearby FedEx
Nearby Internet Cafe
Nearby Post Office
Cable TV
Blender
Cookware
Dishwasher
Full Kitchen
Microwave
Oven
Refrigerator
Toaster
Deck
Patio
Close to Town
Near Beach
Golf Course
Nearby Grocery
Nearby Medical Services
Nearby Restaurants
Nearby Tennis Courts
Outlet Shopping
Local Fiestas
Symphony Orchestra
Ratings based on 6 Verified Reviews
5
mariejevans
CA
Recommended
for Everyone
Tranquility
Posted Jan 04, 2020
We booked Casa Tropical from Dec 22 to Jan 2, I had read a review on VRBO after we had booked that the individual liked the space but there were a couple of issues with the finished of the home.
To our surprise and delight the space is amazing. Apparently the owners saw the review and took the comments to heart.. the beds, the linens, the whole space is incredibly cozy, tranquil and accessible to everything you need.
They have also added a separate casita that is amazing.. the pool, the barbecue, the space surrounding the pool is incredible. This home and space provides everything you want and need to get away and relax and if you want beaches and restaurants, super easy access and closeness.. you can walk to everything or drive if you choose.
We have been lucky to have met Josef, Mao and Lola of RPM Property Mgmt. They have been fantastic to deal with and are very quick to answer any questions.
Overall satisfaction
Services from rental manager
Cleanliness
Location
Property condition
Response:Marie thank you for your wonderful review! We and the owners take your comments and feedback seriously and we are constantly looking to improve. Casa Tropical is a fantastic place to relax and enjoy privacy, space, and beauty! I speak on behalf of the team when we thank you for your kind words and invite you two to come back and stay with us in beautiful Tamarindo!
5
Cesar Pereira
United States
Recommended
for Everyone
Fantastic experience!!
Posted Apr 25, 2019
My family and I had a fantastic time in Costa Rica at Casa Tropical. Amenities, location and the town area are awesome ??. We definitely recommend this house. Also we can't wait to be back!!!
Overall satisfaction
Services from rental manager
Cleanliness
Location
Property condition
5
Leona
Costa Rica
Recommended
for Everyone
Peaceful & relaxing with everything you need!
Posted Dec 19, 2018
This house has everything you need for a relaxing vacation in tropical Costa Rica. I really enjoyed the flow from the front, garden-like area to the back with a perfectly sized pool, surrounded by a beautiful wood deck that is spotted with palm trees. I loved having so many plants and trees to enjoy. At the same time, the house is comfortable and clean with perfectly working air conditioners in each room (living space and two bedrooms) and comfortable beds with good bedding. The kitchen had everything we needed and the window looked out over the lime tree in the front and the birds of paradise plants. I almost didn't want to leave the house, but it is located a short walk to one of my favorite beaches in the world! The small store near by had some good ingredients, and there are a couple places to eat out, but note this is a quiet corner of Tamarindo, so you won't hear much action from the bars downtown. I recommend renting a car or at least avoiding the hottest part of the day if you want to walk into town. Really a wonderful place and I will recommend it to friends!
Overall satisfaction
Services from rental manager
Cleanliness
Location
Property condition
5
RayD
United States
Recommended
for Everyone
Guest
Posted Dec 13, 2018
A very nice accommodation with A/C, suitable bedrooms, bath, kitchen and living area. Lovely pool and deck for lounging and outdoor dining. Large landscaped courtyard with ample parking and secure gated entrances. A short walk to the beach and a few minutes by car to Tamarindo for fine dining and sightseeing.
Overall satisfaction
Services from rental manager
Cleanliness
Location
Property condition
5
Imiller
United States
Recommended
for Everyone
Paradise found !
Posted Dec 13, 2018
You have to be here to appreciate this lovely home . This is a perfect home that has everything included to make your tropical vacation perfect . The name says it all ...it is a tropical home . My only regret is that I don't live here year round. You can't imagine the peace and tranquility of this beautiful home with the pool , hammock and the ocean only a quick walk too ! It's a Surfers delight here ! My vacation was a delight perfect home great location !
Overall satisfaction
Services from rental manager
Cleanliness
Location
Property condition
5
Anthony
United States
Recommended
for Everyone
Paradise by the ocean
Posted Dec 07, 2018
Beautiful walled private immaculate home with a private pool to lounge in and just a few minutes walk to the ocean. This home is your very own private compound . THis house is situated only a leisurely walk to the town and close to some great restaurants for your dining pleasure . You can't go wrong with this lovely vacation home. I'm looking forward to making another trip back this year . I will definitely rent this perfect home again .
Overall satisfaction
Services from rental manager
Cleanliness
Location
Property condition