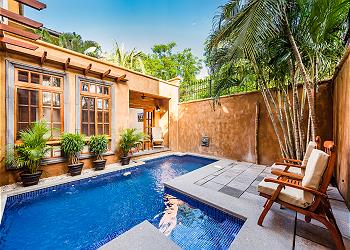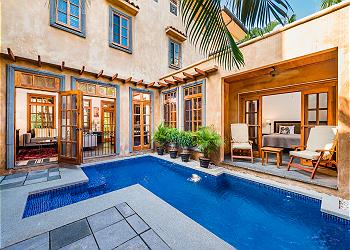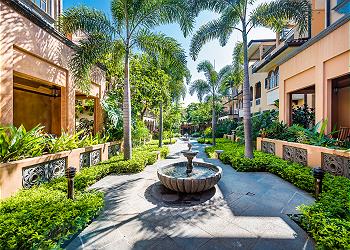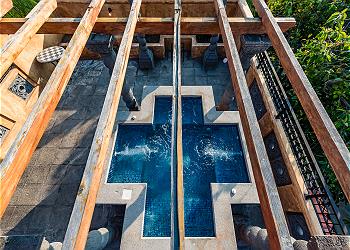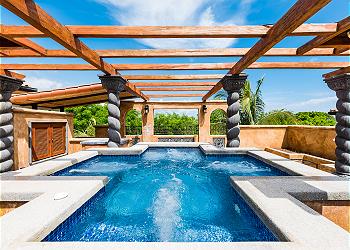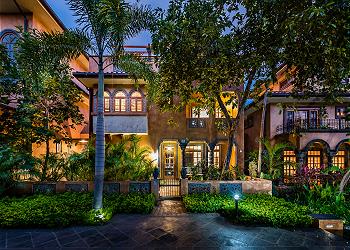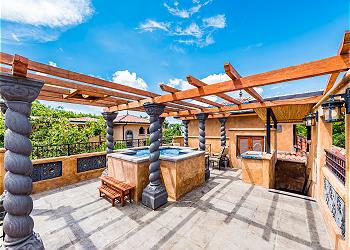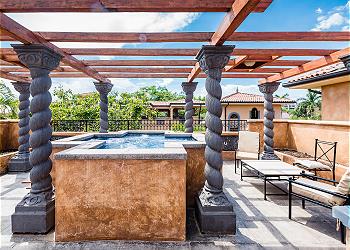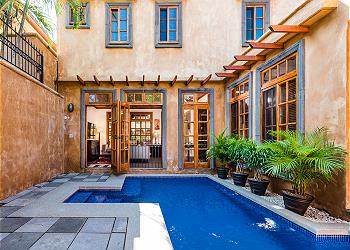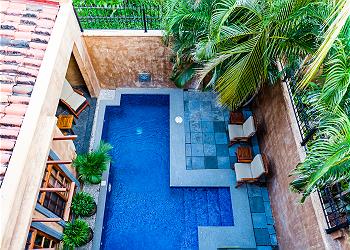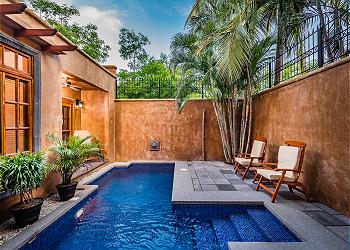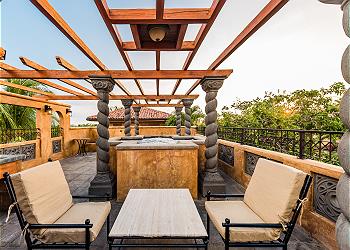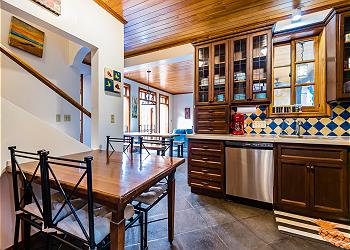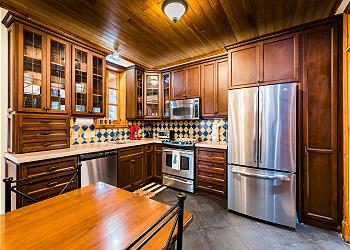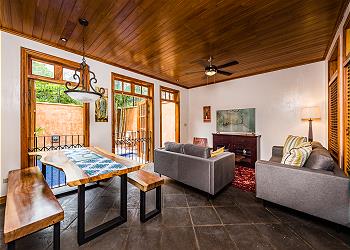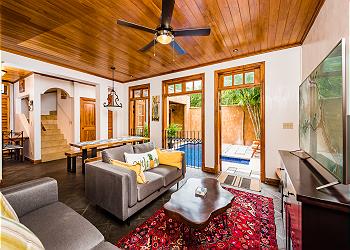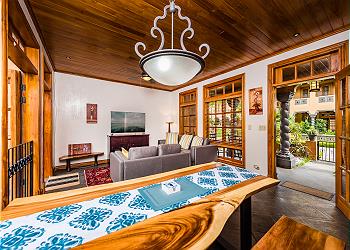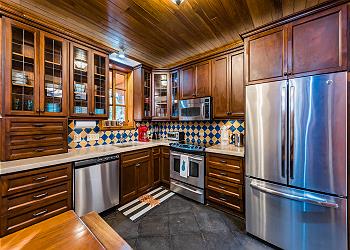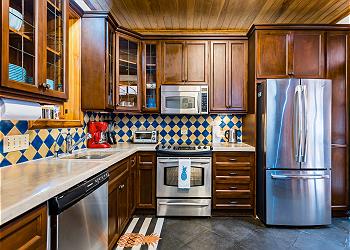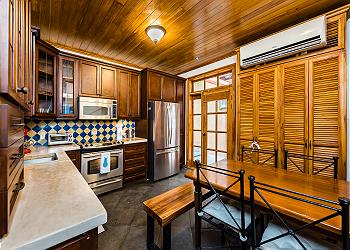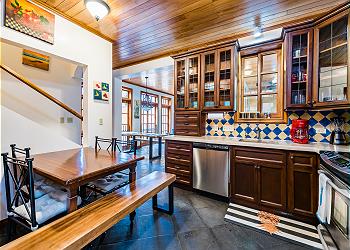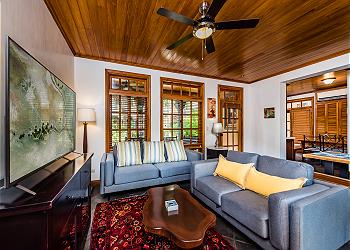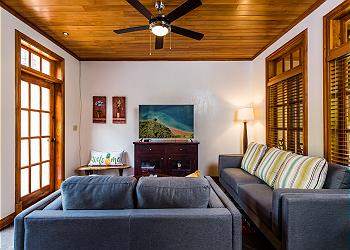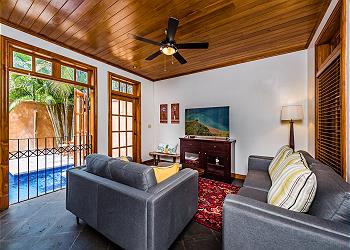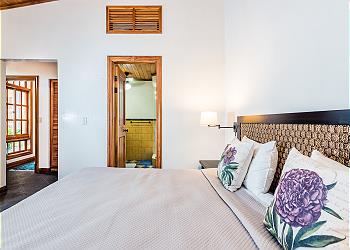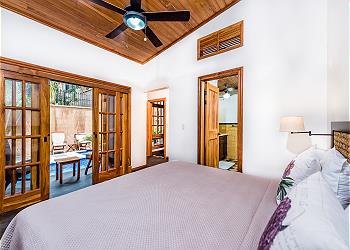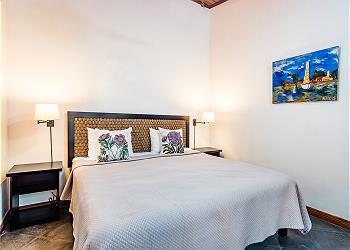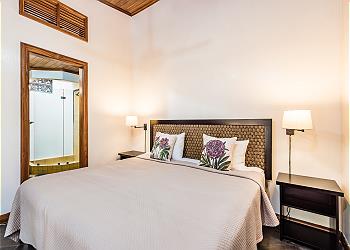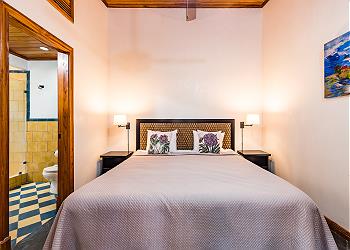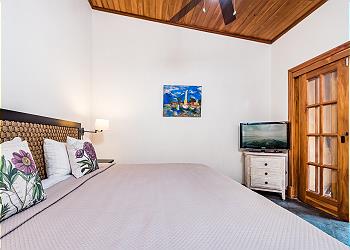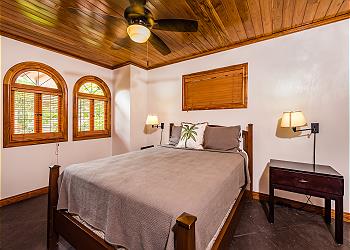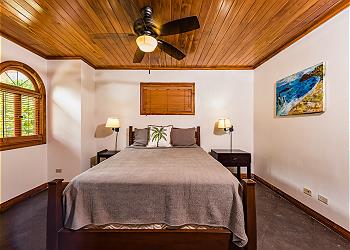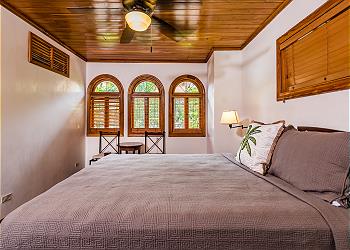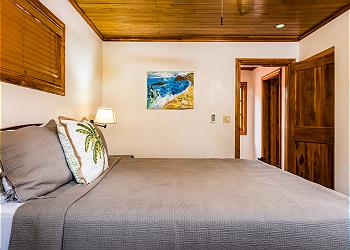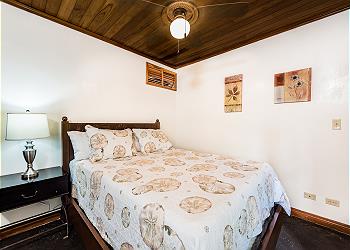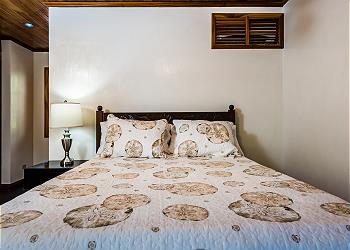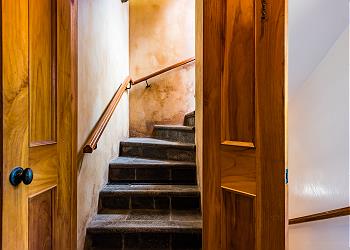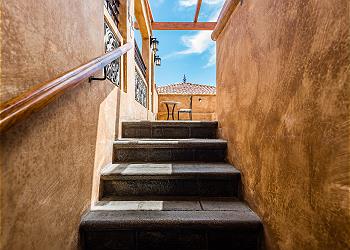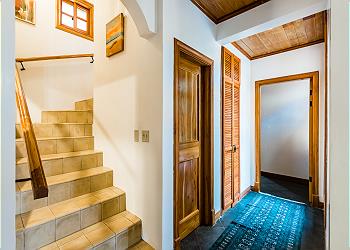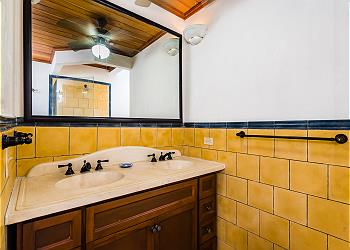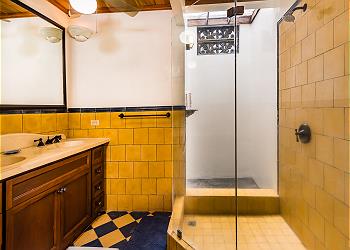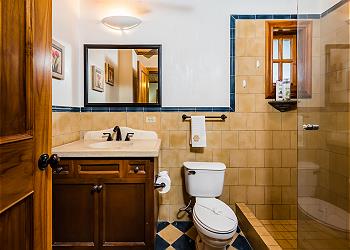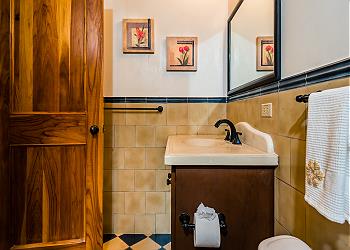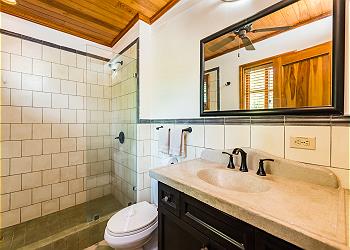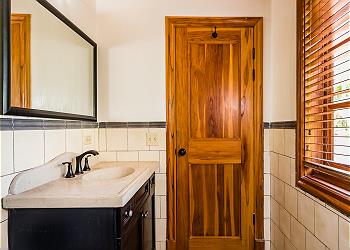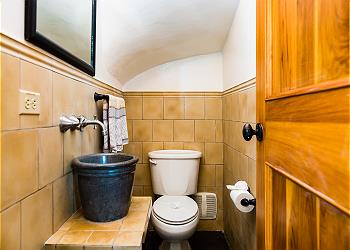 The luxurious Courtyard Villas are a true Moroccan retreat hidden away in the wilds of Tamarindo. You'll experience the best of the best in Courtyard #7, from high-end décor and brand new furnishings to a private pool and gorgeous roof deck with Jacuzzi. Gaze out on the tropical forests of Playa Langosta as you sip cocktails and relax. THE GREAT OUTDOORS Let the balmy breezes of Tamarindo wash over you as you lounge in your private courtyard, surrounded by palm leaves. Cool down with a quick dip in the pool then grab a glass of lemonade and recline in the two pool chairs to dry off in the sun. Begin or end your day with a soak in the rooftop Jacuzzi, complete with views of the surrounding lush tropical gardens. Catch a peek of blue sky through the elegant wooden pergola as you relax in the three rooftop chairs and enjoy conversation with friends and family. Stroll around the Courtyard Villas and take a moment to admire the professionally maintained gardens and well-groomed paths. While tropical birds soar overhead, two graceful fountains create a restful ambiance in these shared areas. LUXE LIVING Recently remodeled with new high-end furniture and state-of-the-art appliances, your villa features all the lavish comforts you'll need to feel pampered. Twice-weekly housekeeping keeps the beautiful Moroccan interiors pristine. Choose a novel and curl up on the comfortable sofas in the living area, or plan a movie night—the flat-screen TV is equipped with cable to make your film selection simple. When stomachs start to rumble, head to kitchen and whip up a delicious meal. With a French-door refrigerator to store fresh ingredients, plenty of storage space stocked with dishes and cookware, and a dishwasher for easy clean-up, you'll have everything you need for a quiet lunch at home or a dinner with a dozen guests. Dine in the breakfast nook or set up an elegant meal at the luxe hardwood dining table. RELAX AND REJUVENATE After an evening of floating in the pool, dry off and head directly into the luxurious master suite. Stretch out on the king bed, relax in the cooling air conditioning—included in every bedroom—and flip on the TV to catch up on your favorite shows. The master en-suite bath features a dual-sink vanity and a spacious walk-in shower. On the second floor, you'll find bedroom two, a restful oasis with a queen bed, en-suite bath, and a private balcony overlooking the pool. The third bedroom is just across the hall—equally well-equipped with a queen bed, en-suite bath, and garden views, bedroom three is just steps from the stairway to the rooftop deck. THE VILLAGE OF TAMARINDO Nestled in the beautiful residential Langosta neighborhood, the Courtyard Villas are centrally located minutes from downtown Tamarindo, with the all the quiet and privacy of a more secluded spot. The balmy Pacific Ocean is less than a quarter mile from your door. Stroll down to the water in the evening and catch a truly unforgettable Costa Rican sunset. Explore the natural beauty of Costa Rica with a tour of the famous cloud forests or nearby volcanoes. The office of RPM Vacation Rentals is nearby, and friendly staff are on hand from 8-5 to arrange tours, transportation, and activities for your group.
Ratings based on 1 Verified Reviews
4.6
Hector Manrique G.
Costa Rica
Recommended
for Everyone
Linda casa
Posted Apr 23, 2019
Tuvimos una estancia muy agradable. La casa está en buenas condiciones, muy limpia y segura. La piscina es poco profunda por lo que es genial para niños, pero sí son personas muy altas podría no ser conveniente. Los cuartos secundarios no tienen tv (preferimos con tv). En general nos gustó.
Overall satisfaction
Services from rental manager
Cleanliness
Location
Property condition
You May Also Like
Courtyard # 2 - Buho
From $375.00 night
avg/week
Courtyard # 3
From $371.00 night
avg/week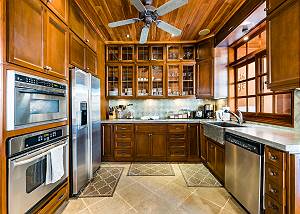 Courtyard # 5
From $320.00 night
avg/week