ESQ3- This 3 bedroom, 3 bathroom condo. La Esquina is a unique property consisting of ten luxury condominiums in Tamarindo contained within a gated complex just a few minutes' walk from the famous waves of Langosta Beach. A fabulously wild tropical garden surrounding the antiqued walls of Spanish-style architecture gives La Esquina, from the outside, the appearance of a storybook castle. Inside the walls of the property, the two structures which constitute La Esquina share an ample enclosed parking area in the back and long pristine pool which stretches the length of the buildings on the street side and is masked from the road by the property's wall and tropical tangle of flowers. La Esquina is a haven of privacy. Each residence is individually decorated, but the simple lines and earth tones of antique-style architecture create an overall sense of classic elegance, and the luxury of simplicity. The fully equipped kitchens are compact in design, each including a small exterior patio where a state-of-the-art gas grill is located. A common living room and dining area adjoins the kitchen in each of the units and opens through sliding glass doors onto a patio where the interior world of quiet meets the tropical garden and the sound of the sea. The bedrooms are furnished in rich comfort and each open onto a small porch where the songs of crickets and frogs blend in the warm night breeze. The units vary in size from two-bedroom residences to the spacious three-bedroom penthouse with open-air deck and private Jacuzzi and are crowned by a rooftop terrace that affords a view over the treetops. From this partially shaded sun deck, the Pacific stretches to the horizon. Spectacular sunsets, a galaxy of stars, and the majestic march of the sun are all played across the screen of the sky from this rooftop terrace. Located just a mile south of Tamarindo's bustling center, guests at La Esquina have easy access to international cuisine, a variety of adventure tours, shopping, spas, and the area's pristine National Parks. This haven of comfort and quiet has something for every occasion: a romantic honeymoon, family gathering, reunion of friends, or a surf trip long dreamt-of. Let the endless beauty of the beaches at your doorstep create memories that will last a lifetime.



Safe




Coffee Maker




Parking
MORE AMENTIES
Ceiling Fans
Central Air
High Speed Internet
Ironing Board
Linens
Night Guard
Phone
Washer & Dryer
wi-fi
Iron
Elevator
Maid Service
Nearby ATM
Nearby Bank
Nearby FedEx
Nearby Internet Cafe
Nearby Post Office
Cable TV
Stereo System
Blender
Cookware
Dishwasher
Full Kitchen
Ice Maker
Microwave
Oven
Refrigerator
Toaster
Shared Pool
Close to Town
Near Beach
Across the Street from ocean
Area FitnessCenter
Golf Course
Nearby Grocery
Nearby Medical Services
Nearby Restaurants
Nearby Tennis Courts
Local Fiestas
Ratings based on 2 Verified Reviews
4.8
John J.
Canada
Recommended
for Everyone
Quiet and beautiful just far enough away
Posted Feb 24, 2018
I have stayed in the Tamarindo area many times. The town is getting bigger and the activity and traffic are increasing significantly. This condo is located about 1.5 kms from Tamarindo in Langosta. If you enjoy a morning stroll into town, then you'll love this place. I certainly did. 3 excellent bedrooms and very comfortable beds. A really great kitchen so you could eat in, we used the coffee maker every morning and sat on the main balcony overlooking the pool. Air conditioning worked very well, we only used it in the evening, the balconies, yes there are several had fans as well, which is a nice feature. The pool extends the entire length of the property, and there is a nice covered area with more fans for relaxing, reading and tanning outside. Although there are just streets adjacent the property, there is good tree covereage, and 2 mornings the howler monkeys came past within a few feet, it was amazing. Across the street and down a short path you are on the langosta beach, which is very quiet, although not a great area for swimming, you do get a fantastic view. In our case we had a reservation change last minute and the RPM sales staff were extremely helpful, and the condo was honestly far nicer than where we intended to stay. There were a couple things we needed fixed, more because I was concerned I might be blamed for breaking something, for example, the microwave wasn't working. With no hesitation rpm had a microwave in for us, to heat some pastries, without question. We walked to and from town most days, it's 15 minutes, and sometimes took a cab, $5 American, usually a tip as well, but for 4 people it worked. Would I recommend La Esquina, 100% and I would return as well, I liked the quieter langosta area, particularly at night when Tamarindo gets pretty busy. There is a value to having a peaceful nights sleep.
Overall satisfaction
Services from rental manager
Cleanliness
Location
Property condition
4.8
tamib
United States
Recommended
for Everyone
Splendid villa
Posted Jan 14, 2018
We had a delightful time staying at this villa. It is particularly great for people who are in Costa Rica for the first time and if you don't want to have a car because the town of Tamarindo is so close as is the beach, restaurants and market. The front bedrooms did get some early morning traffic noises but other than that it was splendid.
Overall satisfaction
Services from rental manager
Cleanliness
Location
Property condition
Response:Thank you for the great review. We glad you had a great time in Costa Rica and we hope this will be the beginning of many more trips to Costa Rica.
You May Also Like
La Esquina # 3
From $1180 week
avg/week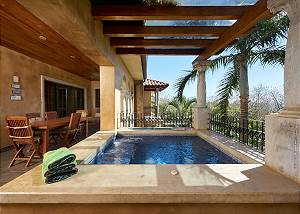 La Esquina # 10
From $1406 week
avg/week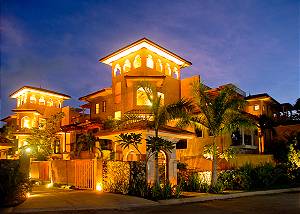 La Esquina # 4
From $1180 week
avg/week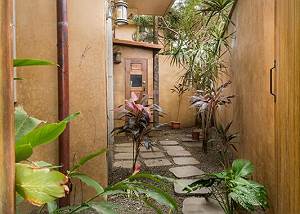 La Esquina # 6
From $1406 week
avg/week