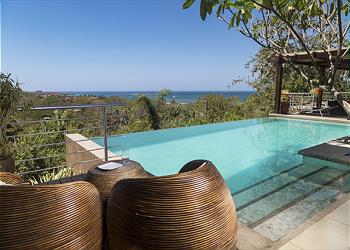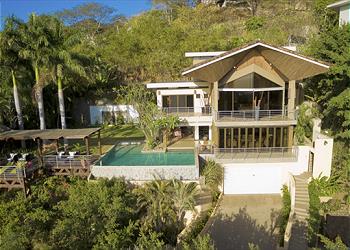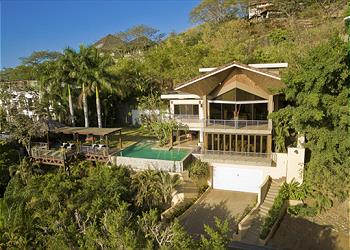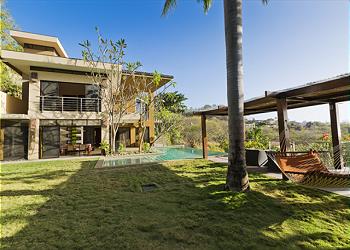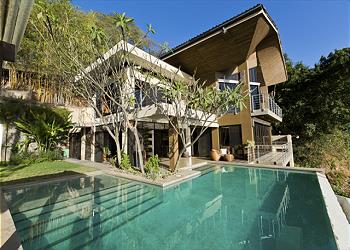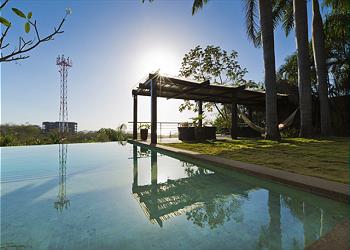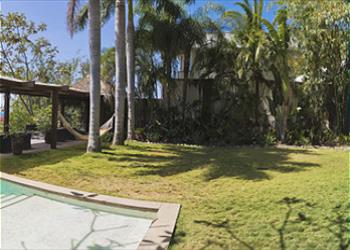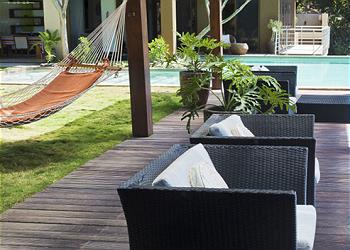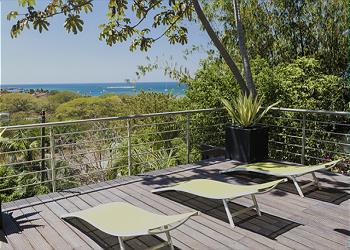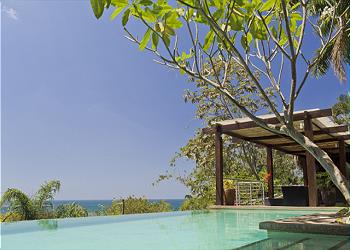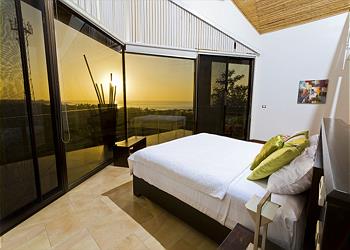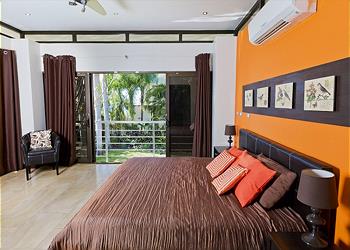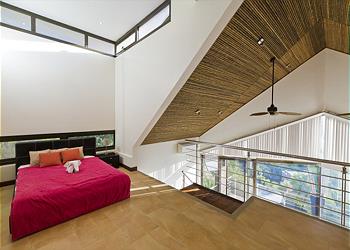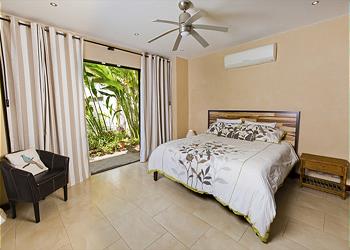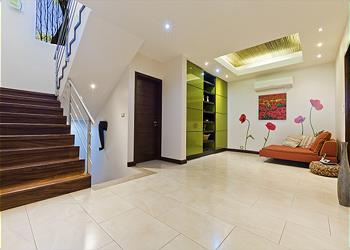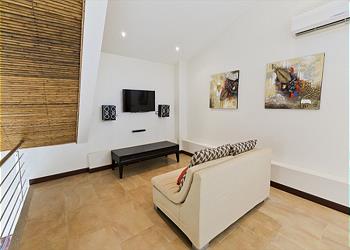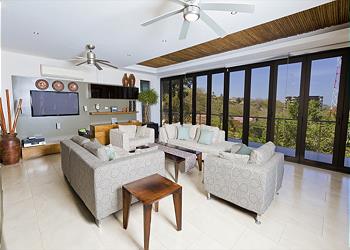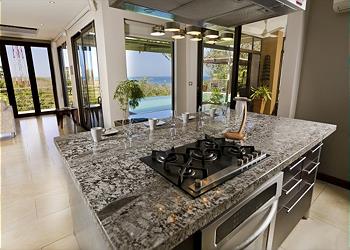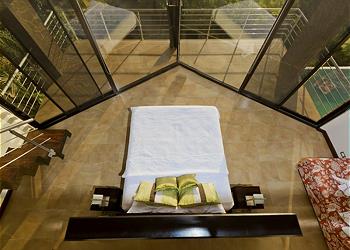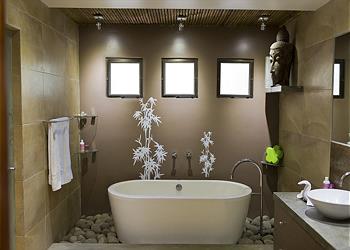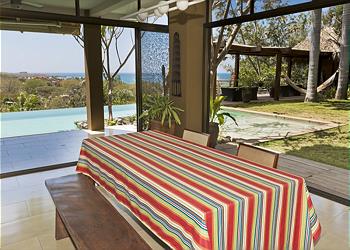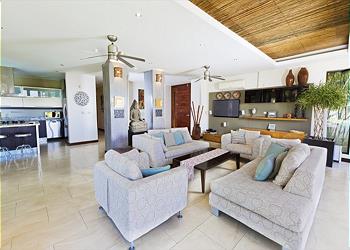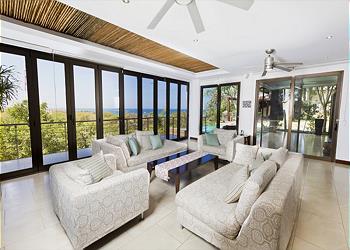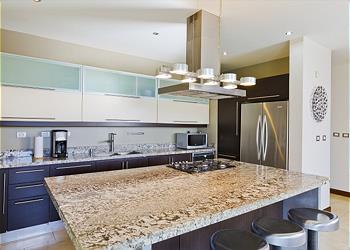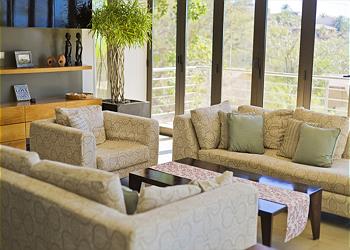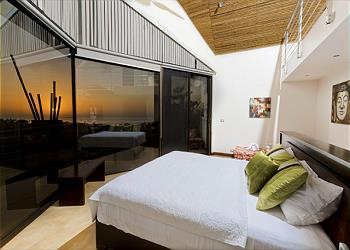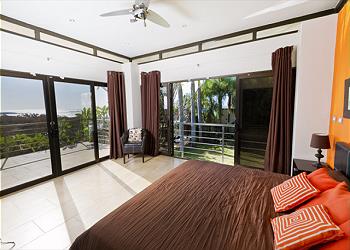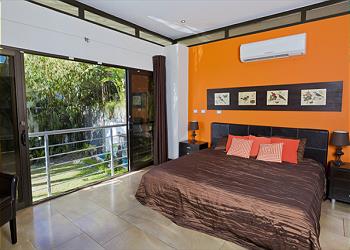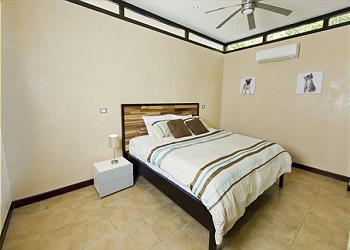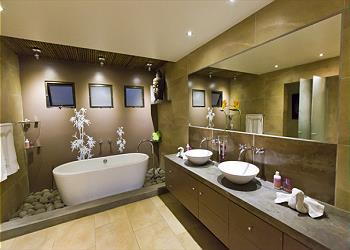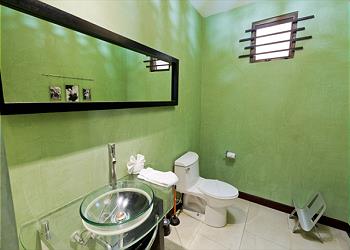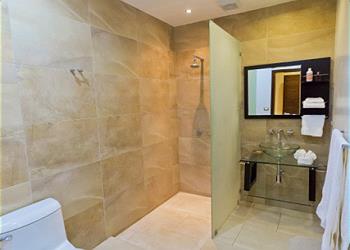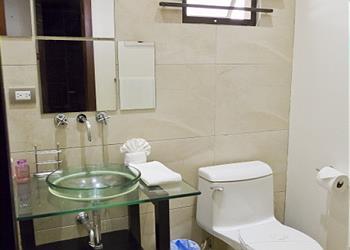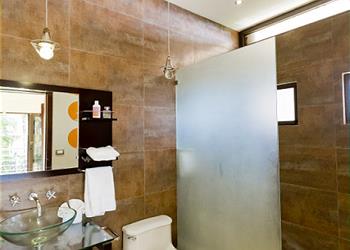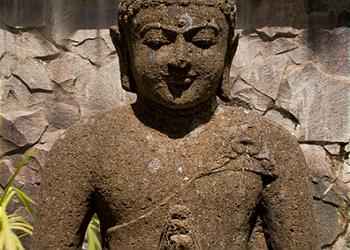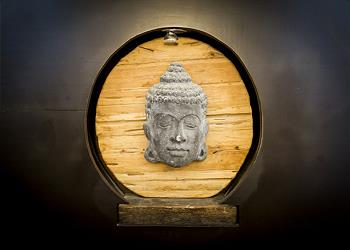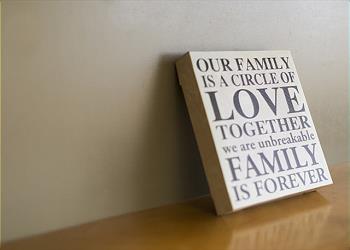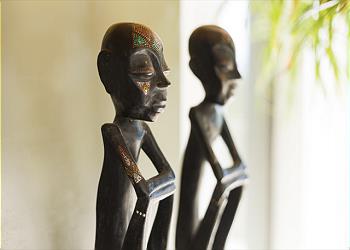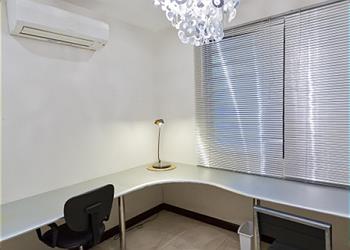 Casa Alegria is a modern 5BD tropical style house in Playa Tamarindo with great ocean views overlooking Playa Tamarindo, Punta San Francisco and Isla Capitan as well as Playa Langosta. The beach is only a 5 minute walk from the house. The house itself is very spacious, making it ideal for families, wedding parties, and groups of friends. The open space living- dining concept is ideal to entertain guests while cooking. The dining area leads to the outdoor patio, where one can enjoy the sunsets from the covered deck and barbecue area. The master bedroom includes a loft with TV. The views from the king-sized bed are incredible as you watch the sunrises and sunsets. The additional 4 bedrooms are all furnished with very comfortable beds and quality linens and towels. Access to the house is convenient through your 2 car garage or through a separate entrance walking through a tropical garden. Casa Alegria provides plenty of storage space for all your beach equipment. This house is conveniently located in Playa Tamarindo with all amenities within a 5-10 minute walk including the beach!



Air Conditioning




Safe




Security




Coffee Maker




Parking




Private Pool
MORE AMENITIES
Ceiling Fans
High Speed Internet
Linens
Phone
Washer & Dryer
wi-fi
Maid Service
Nearby ATM
Nearby Bank
Nearby FedEx
Nearby Internet Cafe
Cable TV
Blender
Cookware
Dishwasher
Full Kitchen
Microwave
Oven
Refrigerator
Toaster
Balcony
BBQ Grill
Deck
Gas Grill
Patio
Close to Town
Near Beach
Ocean View
Area FitnessCenter
Golf Course
Nearby Grocery
Nearby Medical Services
Nearby Restaurants
Nearby Tennis Courts
Local Fiestas
Ratings based on 9 Verified Reviews
4.6
jspeople1
United States
Recommended
for Everyone
Excellent layout but could use some interior TLC
Posted Jul 01, 2018
We had a party of 10 and stayed a week at Casa Alegria. The layout of the house was excellent for our group. The bedrooms were large and comfortable. One of the en suite bathrooms did not have a door, which we found odd. The outdoor space, including the WONDERFUL pool is where we spent most of our time. Santos maintained the outside and he is a very hard worker. Everything outdoors was always in tip top shape - and there's a lot to maintain. Santos was always friendly with his Holas and infectious smile. He even carried our luggage out when we were leaving. He is a huge asset to the Casa Alegria staff and they should feel blessed to have him. We were a quick 5 minute walk to the beach or to town and the hill to the house always offered a quick, intense workout - something we all needed. We went to quite a few of the local restaurants, all very good and reasonable and most with happy hours from 4-7. Nougi's pineapple pie is a must. Natalia and Mario were excellent as well, always offering recommendations and quick to respond when we needed anything and, in our opinion going way above what would be expected from property managers. Karen was the housekeeper and her role was a bit muddled and overall, less than what we expected. Perhaps we didn't fully understand her responsibilities but her "standard" tasks seemed to be limited to washing dishes and sweeping the downstairs floors. She offered to clean our rooms (we would have thought this automatic) and when she did, she did not bring fresh towels or change the linens. She offered to change the linens the day before we were leaving and we had to ask for fresh towels, which some she left in the washer when she left for the day. She enjoys cooking and offered to cook many, many times. With 10 people, we weren't all really on the same feeding schedules so only took her up once on her offer. She did prepare an excellent lunch for us one day - one of the highlights of the trip. The house itself is very "lived in" and could use a few upgrades and even basic functional elements, like towel bars in the bathrooms. We had to hang our towels on top of doors, etc. so they never really dried . . . and, as stated, were not changed for fresh towels. Overall, we would recommend this property to others.
Overall satisfaction
Services from rental manager
Cleanliness
Location
Property condition
5
aria.glasgow
United States
Recommended
for Everyone
Incredible house and location! Beach is closer than it looks!
Posted Apr 23, 2018
We had a wonderful time staying at Casa Alegria! Exceeded our expectations.
The pictures do not do the house justice. It is beautiful floor plan with lots of indoor and outdoor areas to enjoy. The big yard, and deck, and balconies were nice surprises. The views of the sunset are incredible. The house is modern, but not brand new. So a few things are starting to show wear and tear due to the enjoyment of the house. We were a little anxious reading the other review about appliance / windows being dirty, but this was not our experience. Everything was clean. But if you are looking everything pristine and new, book a hotel, not someone's home.
This house is well cared for and loved. Since our booking 3 months prior, the owners, Mario, and the rest of the crew kept in constant contact, arranging transportation and answering any and all questions.
Mario was at our disposal the entire time. He met us upon arrival and gave us the rundown of the house and area; including some tips for making sure we felt safe at all times. We had a few minor issues come up during our stay and Mario was immediately responsive.
We had Karen cook quite a bit for us.The price for food and preparation was a bargain and gave us more time to enjoy the house. Plus – her food is so good! We all loved her beans / rice and guac for breakfast + plus fresh fruit.
Santos kept the place in order and worked hard the whole time we were there. The lot is exquisite and needs a lot of care and attention. He is a pleasure to have part of the Casa Alegria team.
We loved Tamarindo for our first trip to Costa Rica and the location can't be beat! There is a steep hill to get to the house, but a good workout. Or you could rent a golf-cart.
If you are considering renting this house, we highly recommend it. You won't be disappointed.
Pura Vida!
Overall satisfaction
Services from rental manager
Cleanliness
Location
Property condition
3
Lynda C.
Costa Rica
Recommended
for Everyone
Lovely house, but please read my review....
Posted Feb 25, 2018
The house is lovely, the exterior area and pool are amazing and the view is beautiful.
The house is big and comfortable but the cleaning is poorly done by the staff.
They basically just clean to get the next group of people going, but is not done well in anyway.
Windows were nasty, like there weren't cleaned in weeks, kitchen appliances are rusty and old and in general the house needs more care and love... My guess is that the maid, which won't cease to insist you to hire her for everything you need, creates the necessity, because you definitely need her if you want the house clean the proper way, and even tho you need to be on top of her to do things, as she does everything really fast and superficial.
Another detail is that they have keys, so they will just let themselves in. If you are renting the house, you will expect them to at least ring the bell.
We had a little inconvenience with the owner's car, which along with 2 huge atv's, scooter, bikes, etc, doesn't live you more than just 1 parking space in the shadow, however I called the managers and they were nice enough to take care of it and move the car to a different place. The BBQ didn't have enough gas, so we couldn't use it, another detail overlooked by the staff.
In general the stay was really nice and super closed to the beach, linens were clean and the house has basically anything you need. But I think management needs to be on top of the cleaning staff before the guests come in.
Overall satisfaction
Services from rental manager
Cleanliness
Location
Property condition
5
Dana H.
United States
Recommended
for Everyone
Casa Alegria - Amazing Vacation Rental
Posted Aug 23, 2017
Casa Alegria was the perfect vacation home. It was just close enough to the town and beach that walking wasn't a hassle at all, yet far enough off the beaten path to make us feel like it was our private oasis. The place had an amazing view, was well kept, well stocked, had a great layout, the pool and outdoor space was awesome.... I can't say enough about this house. The most amazing thing though was Karren, the housekeep/cook. She was so warm and truly cared about meeting our needs. She cooked us amazing Costa Rican meals and made us cocktails upon request. Without her hospitality our experience would not have been the same. I highly recommend this house as a vacation rental.
Overall satisfaction
Services from rental manager
Cleanliness
Location
Property condition
Response:Thank you so much for the great review. We are so glad you had a great time and we are looking forward to hosting you again!
4.8
Alex D.
United States
Recommended
for Everyone
Great stay at Casa Algeria!!!
Posted Aug 16, 2017
This amazing home was our dream getaway! The house was beautiful! It was extremely well appointed with beautiful furniture and artwork. Karen and Santos were lovely. Karen prepared wonderful Costa Rican meals for us and Santos kept the property looking beautiful. He was also able to point out wildlife on the property and in the nearby trees. RPM was very professional with booking and follow up. They also provided very useful info on activities and restaurants around Tamarindo. My only negative input as that the house is tricky to find the first time you go. The road to the house is a little "rustic", but we were able to navigate in a non-4WD vehicle.
Overall satisfaction
Services from rental manager
Cleanliness
Location
Property condition
Response:Thank you so much for the review and so glad you had a great time. This is truly an incredible house and the staff is great. We hope you will come back and stay at Casa Alegria again!
5
Eric B.
United States
Recommended
for Everyone
Amazing stay with friends
Posted May 02, 2017
Stayed here with 11 other friends for an unforgettable week. The house and property is amazing. We had such an enjoyable stay and was comfortable all week. The property is a very close walk to town and the beach. Karen and Santos were great - Karen cooked some great meals for us during our stay. If I'm back in Tamarindo will definitely book this place again and would 100% recommend to a friend.
Overall satisfaction
Services from rental manager
Cleanliness
Location
Property condition
Response:Thank you for the great review. We are so glad you had a great time and look forward to seeing you again.
5
kristin.mcphail14
Canada
Recommended
for Everyone
Casa Allegria
Posted May 05, 2016
What a great rental. Stayed here with a group of 10 friends and was perfect for our needs, it could easily fit more people. So beautiful, with a great yard and infinity pool, location could not be better with an easy 5 minute walk to town and the beach. Probably the best part of the house was the maid Karen and groundskeeper Santos. Karen kept the house very clean, was very friendly and helpful, and cooked us delicious breakfast and lunch each day. She even made pitchers of drinks for us including margaritas and the best mojitos! She made us a grocery list of things to buy for her to cook us traditional Costa Rican dishes. Overall a great experience staying in Casa Alegria.
Overall satisfaction
Services from rental manager
Cleanliness
Location
Property condition
Response:Wow! Sounds like an awesome trip and I'm so glad you guys got great service from the staff and had a spectacular time! Hope you come back again!
5
Boobagirl
United States
Recommended
for Everyone
The PERFECT Getaway
Posted Apr 22, 2016
Walking into Casa Algeria was breathtaking. After a long day of travel, it couldn't have been more perfect walking into such a beautiful, relaxing home. We were welcomed by such a clean, sleek, resort home. The decor is beautiful. Each room is spectacular with some of the best views I've seen, I knew I wouldn't ever want to leave. There is so much space in the home that we never felt cramped. The outdoor space is amazing. The pool was the perfect temperature for those hot Costa Rica days and the patio furniture was comfortable enough that I could've slept outside! Early in the morning, we'd sit on the deck and watch the monkeys and birds in the trees. Paradise! The housekeeper was beyond kind and very hospitable. She is also a phenomenal cook. From the house, its a quick walk into town and to the beach. The perfect setting for a Costa Rican Vacation. I would definitely go back!
Overall satisfaction
Services from rental manager
Cleanliness
Location
Property condition
Response:Thank you so much for the great review and so glad you enjoyed Casa Algeria. It is a wonderful house with incredible views!!
5
Sommer
United States
Recommended
for Everyone
Posted Apr 21, 2016
We spent a week at Casa Alegria and experienced a trip of a lifetime! RPM services were wonderful to work with both in the planning stages and our time in Tamarindo. They were waiting for us at the airport upon our arrival and 10 minutes early for any transportation needs we required. The house itself is a luxury home...comfortable beds, beautiful bathrooms, and an abundantly stocked kitchen to make our stay more than enjoyable! I would highly recommend Casa Alegria!!!
Overall satisfaction
Services from rental manager
Cleanliness
Location
Property condition
Response:Thank you so much for the great review and comments about this wonderful house. We are so glad you had a great time and hope to see you again.