This property offers all the comfort and the security you need at a very affordable price. Location Located less than a mile from the center of town – but off the beaten path this private, southwest style, contemporary home is the ultimate retreat. It is conveniently located in the quiet residential "Oro del Sol" area and just 10 minutes walking distance from the Tamarindo beach and the heart of the town, where you find all the great restaurants, nightlife, shopping, beach, and surfing. Just outside the front door, there is a small playground for children on one side, and the Tamarindo Eco Adventure center for zip lines, horseback riding, tree climbing, biking, etc… on the other side. Rooms This modern home has 3 spacious bedrooms, each equipped with a full, ensuite bathroom, plus a half bathroom on the first floor for your convenience. Two of the bedrooms are considered "master bedrooms"; one is located on the second floor with a large private balcony to see the sunrise on the sounds of the howler monkeys, overlooking the surrounding hills of Tamarindo and the ocean; and the other is on the first floor with views on the pool and the backyard. There are 1 king size bed and 3 queen size beds which results in a comfortable 8 sleeps location. Layout & amenities The home is spacious, open floor plan includes a fully equipped high-end kitchen and a large island with a dishwasher. Small appliances include blender, microwave, toaster and coffee maker. Dishes, glassware, cookware, towels, and linens are provided. With large windows designed all around the home, you can take advantage of the natural light that elegantly fills the open spaces. The dining room offers a very nice living area that opens on to a large terrace with a gorgeous private pool surrounded by a tropical garden. The pool area with a covered terrace is the perfect place to BBQ and enjoy outdoor dining. There is also a large laundry room with full-size washer & dryer on the main level and weekly housekeeping is included. This home has A/C and ceiling fans throughout and include high-speed internet, cable TV, a safe and phones for local calls. The home is called-in for privacy but includes an alarm system for peace of mind. A private, gated parking area for one car is also available and outdoor storage should guests desire to rent bikes or surfboards.



Air Conditioning




Safe




Coffee Maker




Parking




Private Pool
MORE AMENITIES
Ceiling Fans
High Speed Internet
Linens
Phone
Washer & Dryer
Nearby ATM
Nearby Bank
Nearby FedEx
Nearby Internet Cafe
Nearby Post Office
Cable TV
CD Player
DVD Player
iPod Dock
Stereo System
Cook top stove
Cookware
Full Kitchen
Microwave
Oven
Refrigerator
Deck
Outdoor Shower
Patio
Close to Town
Near Beach
Area FitnessCenter
Golf Course
Nearby Grocery
Nearby Medical Services
Nearby Restaurants
Nearby Tennis Courts
Local Fiestas
Ratings based on 7 Verified Reviews
5
Brigette B.
United States
Recommended
for Everyone
A hidden gem vacation rental in Tamarindo!
Posted Mar 12, 2021
Oro Del Sol 16 was everything I could have hoped for and more with a vacation rental! I stayed for one month and the house made for the perfect home base! Clean, colorful, and spacious. The outdoor pool area and balconies are so nice and the house was very cozy. It is in great walking distance to everywhere in town and just a short 10 minute walk to the beach! Not to mention, the owner, and RPM Rentals were incredible people and so very helpful for anything we needed. I would absolutely stay here again and recommend it to everyone! You will not be disappointed!
Overall satisfaction
Services from rental manager
Cleanliness
Location
Property condition
Response:Thank you so much, Brigette! We always listen to the needs of our guests and stay available during the whole stay to fulfill all their needs. We take great pride in providing a well equipped, beautiful and maintained vacation villa for our guests and make them enjoy their stay with no worries. We are so glad you guys enjoyed your vacation. Hope to have you again soon! Stijn
5
Jennifer Wachsmuth
Costa Rica
Recommended
for Everyone
Highly Recommended
Posted Feb 11, 2021
My family and I stayed in Oro del Sol 16 for 8 nights and highly recommend it. It is within walking distance of everything, yet just outside of the busyness of town so you can enjoy the quiet nights and bright stars. The home was very warm and welcoming with a beautiful private yard with a pool and BBQ great for the family. The home was fully equipped with everything you need for cooking and even included a dishwasher and private laundry room. The hosts were quick to respond to any inquiries we had. I highly recommend and look forward to staying there with my family again in the future.
Overall satisfaction
Services from rental manager
Cleanliness
Location
Property condition
5
Jennifer W.
United States
Recommended
for Everyone
Oro del Sol 16 -recommended
Posted Feb 09, 2021
Beautiful, large home in a great location within walking distance of everything yet a little further out of the busyness of town. Great host. Would recommend!
Overall satisfaction
Services from rental manager
Cleanliness
Location
Property condition
Response:Thank you for your comments, Jennifer. Together with our local teams of RPM Tropical Vacations, we put so much attention into detail and care for our guests and are very happy that it's appreciated! It was a pleasure to share our little piece of paradise with you and your family and we'll be happy to receive you another time. Thank you again for staying with us. Pura Vida!
4.6
raqzg902
United States
Recommended
for Everyone
Perfect Vacation Place
Posted Jan 21, 2021
Is the second time we stay in this house and we absolutely love it.
The only downside is that it has a shed that takes up most of the parking space so it only fits 1 car and we have to left the other car outside. Being a property for 8 guests I think it's important that you can fit 2 cars in the garage.
Overall satisfaction
Services from rental manager
Cleanliness
Location
Property condition
Response:"We are very happy that you like our house so much that you came to stay a second time. We really appreciate the comments of all our guests and thank you for bringing up the parking space. We will take it into consideration and the next time we stay in our house ourselves, we will check what options we have to remedy this, hopefully still in the course of this year, if not certainly next year."
5
Jaffeth V.
United States
Recommended
for Everyone
Awesome
Posted Oct 21, 2020
Always good, the support got fast our home if we have any issue, the house got everything we need.

The only thing is the street that was a challenge every time we went out, but definitely we will be back, we love it.
Overall satisfaction
Services from rental manager
Cleanliness
Location
Property condition
5
Maria de Conceicao R.
CA
Recommended
for Everyone
Beautiful ventral home in Tamarindo
Posted Feb 17, 2020
We stayed at this home in February for two weeks and really enjoyed it. This home is in a great location far enough away from the hustle of the town but close enough to walk to restaurants, shopping and beach. Home is spacious and well equipped with the necessities that we needed. Pool is a great size and we used it a lot daily. The rental company was fantastic answering and attending to all of or needs from arranging transportation to minor problems we encountered with the home. Our group of six enjoyed our stay and the relaxation that this property offered. Thank you
Overall satisfaction
Services from rental manager
Cleanliness
Location
Property condition
Response:Thank you for your review. We are happy that you enjoyed staying in our house and really appreciate your feedback. As owner we are now also staying here for 2 weeks and we are making some additional improvements. We hope to be able to add new pictures soon so that you will feel like coming back soon.
5
Laura Vargas
Costa Rica
Recommended
for Everyone
Perfect house for families and couples
Posted May 20, 2019
We had a great time at Oro del Sol #16. The house was fully equipped and we really enjoyed the big pool. We spent most of our time within the living room and the pool, the house has ACs on each bedroom and the living room. The upstairs bedroom has a king size bed and a beautiful view!!! I will recommend this house to anyone with kids or couple that want to relax. It was really good being close to town and have access to restaurants and shops. We will definitely visit again. RPM was great with their customer service and the check in was really easy.
Overall satisfaction
Services from rental manager
Cleanliness
Location
Property condition
You May Also Like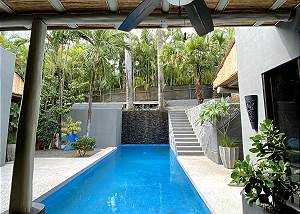 Oro del Sol # 21
From $340.00 night
avg/week